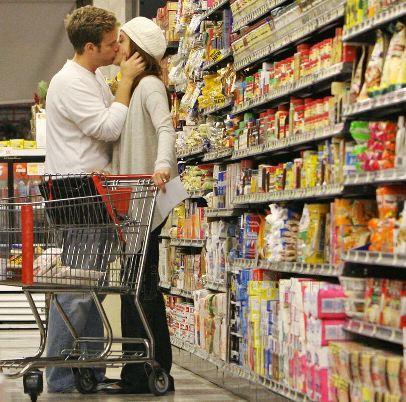 [When doing a quick search for a pic of a grocery store, I found the above image -- cute, eh?]
I'll start this post by saying that I saved over $9 just by using my card. Smart shopping, eh? The not-so-smart part involves still spending $45.52.
So I bought all of the groceries that I had on my list, and a few other things that were a) on sale and b) something we needed.
Little carton of "Baby Dill", 1 lemon (on sale), fig spread, small log of chevre, dried beans (black, roman, great northern, and red beans), 2 jars of Classico Tomato/Basil (BOGO -- the marinara with olive oil variety? Has three types of oil. Who the f*** needs three types of oil in marinara?!), Barilla pasta (50% off -- rotini, mezze penne, and gemelli), Dragone ricotta (66% off), Dragone mozzarella (also 66% off), 1 donut (which I ate in the store... don't judge), and my favorite item on this receipt: (under the Processed Meat heading) "Mngr Sp Selfsrv" otherwise known as Falafel chips. Yep.
So now the only thing to do in regards to my meal plan this week is get a nice recipe for bean soup.